Table of Contents
Introduction to SOF National Science Olympiad (NSO)
The National Science Olympiad (NSO) is a highly anticipated event that celebrates scientific aptitude and fosters a passion for the field of science. As part of the esteemed Science Olympiad series, this competition brings together students from various backgrounds to showcase their knowledge, critical thinking, and problem-solving skills. Organized by the Science Olympiad Foundation (SOF), the NSO provides a platform for young minds to explore the fascinating realms of science and engage in a spirited scientific competition.
The NSO is not just a mere science competition; it serves as a catalyst for inspiring and nurturing scientific curiosity within students. By participating in the NSO, students have the opportunity to delve into various branches of science, expand their understanding, and apply their knowledge to solve intriguing problems. The Science Olympiad Foundation (SOF) plays a crucial role in organizing this event, ensuring the highest standards of excellence and providing a stimulating environment for participants to thrive. The NSO encourages students to embrace scientific exploration, develop a love for learning, and pave the way for future scientific endeavors.
At the heart of the NSO lies the essence of science education and the quest for knowledge. The competition not only challenges students' scientific acumen but also instills in them a sense of curiosity and a thirst for discovery. By participating in science quizzes and engaging in the Science Quiz Competition, students further sharpen their scientific knowledge and critical thinking skills. The NSO, with its focus on science, acts as a stepping stone for students to embark on a lifelong journey of scientific exploration, contributing to their personal growth and development as future scientists, innovators, and problem solvers.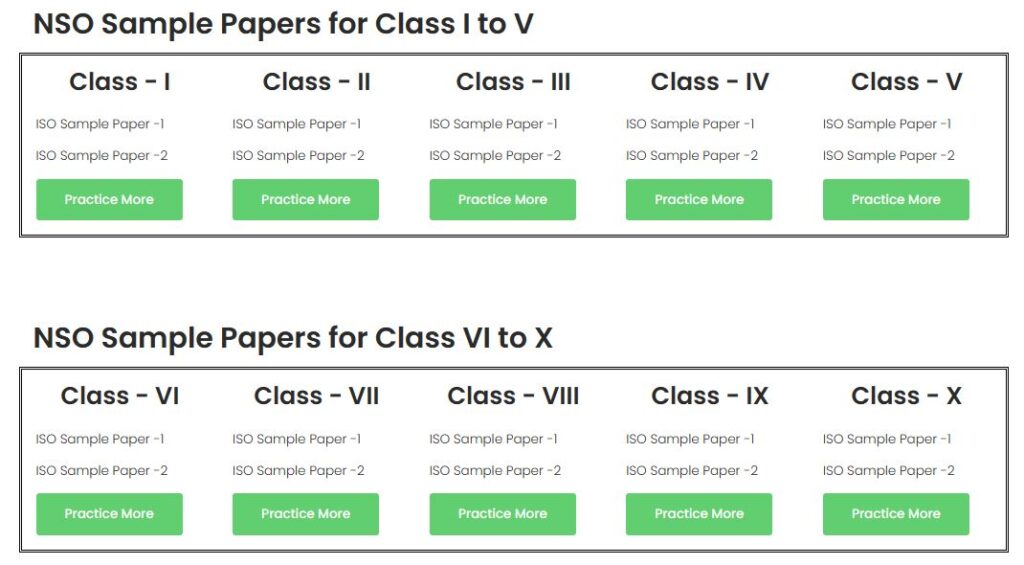 Download the Sample Papers for SOF National Science Olympiad (NSO)

Benefits of participating in the SOF National Science Olympiad (NSO)
Participating in the SOF National Science Olympiad offers several advantages for students. Let's explore some of the benefits that come with taking part in this esteemed competition:
1. Enhancing scientific knowledge
The NSO covers a wide range of scientific concepts, including physics, chemistry, biology, astronomy, and environmental science. By participating in the competition, students expand their knowledge and understanding of these subjects beyond what is covered in the standard curriculum. This exposure to diverse scientific topics enhances their overall scientific literacy.
2. Developing critical thinking and problem-solving skills
The NSO presents challenging scientific problems that require critical thinking, logical reasoning, and analytical skills to solve. By engaging with these problems, students develop their ability to think critically, analyze data, draw conclusions, and apply scientific principles to real-world scenarios. These problem-solving skills are invaluable not only in scientific pursuits but also in various other areas of life.
3. Nurturing a passion for science
The NSO ignites a passion for science by presenting students with intriguing scientific phenomena and questions. By exploring and delving deeper into scientific concepts, students develop a genuine interest in the subject. This passion for science can lead to further exploration, research, and future career opportunities in scientific fields.
4. Competitive spirit and recognition
Participating in a national-level competition like the NSO allows students to compete with their peers from across the country. This healthy competition fosters a sense of motivation and the drive to excel. Outstanding performers in the NSO receive recognition, certificates, and awards, which serve as a testament to their scientific abilities and dedication.
5. Exposure to practical applications of science
The NSO not only focuses on theoretical knowledge but also emphasizes the practical application of scientific principles. By tackling real-world problems and scenarios, students gain insights into how scientific concepts are applied in various domains, such as technology, medicine, energy, and environmental conservation. This exposure broadens their understanding of the relevance and impact of science in everyday life.
6. Building confidence and communication skills
Participating in the NSO enhances students' self-confidence as they tackle challenging scientific problems and present their findings. Engaging in scientific discussions, both during preparation and the actual competition, improves their communication skills, enabling them to articulate their thoughts and ideas effectively.
Syllabus for the SOF National Science Olympiad (NSO)
The syllabus for the SOF National Science Olympiad covers a comprehensive range of scientific topics. Here are some key areas included in the NSO syllabus:
1. Physics
Physics topics in the NSO syllabus include motion, force and laws of motion, work and energy, light and sound, electricity and magnetism, heat, and modern physics.
2. Chemistry
Chemistry concepts covered in the NSO syllabus encompass basic chemistry, states of matter, atoms and molecules, acids, bases and salts, metals and non-metals, carbon and its compounds, and chemical reactions.
3. Biology
Biology topics in the NSO syllabus focus on the structure and functions of plants and animals, human body systems, microorganisms, cell biology, genetics and evolution, nutrition and health, and ecology.
4. Astronomy and Space Science
The NSO syllabus also includes topics related to astronomy, space science, and celestial bodies, covering aspects such as the solar system, the universe, stars and galaxies, space exploration, and space technology.
5. Environmental Science
Environmental science topics in the NSO syllabus cover aspects of environmental conservation, pollution, natural resources, climate change, ecosystems, and sustainable development.
Registration of Students for SOF National Science Olympiad (NSO)
The SOF NSO is open to the students of classes 1 to 12. A prospectus containing the Registration forms is sent to all schools registered with SOF. Schools not registered may also request for prospectus by sending an e-mail to info@sofworld.org / phone call. Schools must return the registration forms to SOF, duly filled in and complete in all respects by the due date.
Roll Numbers: The school's coordinating teacher should fill out the School Registration Form (SRF) and Students' Registration Sheet (SRS) as per the guidelines given & should send them to the SOF's office before the due date of submission of forms. SOF will register the applicant's school and the students as per the Students' Registration Sheet (SRS) received from the School. SOF will generate roll numbers for all students.
The foundation will register the applicant's school and the students and dispatch question papers and guidelines for conducting the examination. Principals/teachers may please note that any school can be registered as a center for SOF NSO. No fee is required from the institution to become a registered examination center. A minimum of 10 students need to be registered from each school for SOF NSO.
The SOF NSO is conducted on 3 dates for Level 1. Each school may select a date for conducting the SOF NSO at its convenience. Each date of the exam has a separate question paper. Change of date for conducting the SOF NSO is not permitted.
Students should register through their respective schools. Individual registrations by students are not accepted.
Registration Fee: Schools in India, Bangladesh, Bhutan & Nepal pay SOF a registration fee of Rs 125* (including GST) per student / Olympiad towards the cost of the examination. Schools may charge an additional Rs 25** per student towards the honorarium of charge, remuneration to teachers to teach and guide, and other expenses. No fee is payable for students suffering from any major physical disability, or an Indian student whose parent was martyred during defense operations.
*US$9 for other countries.
**US$1 for other countries.
The SOF National Science Olympiad is conducted at two levels:
Level 1: The first level of the test is organized in the respective schools of the participants during school hours.
(i) The level 1 competition is an objective-type test of 60 minutes duration comprising 35 objective-type (Multiple Choice) questions for class 1 to class 4 and 50 objective-type (Multiple Choice) questions for class 5 to class 12.
(ii) The question paper consists of three sections:
For Class 1 to Class 10
Section-1: Logical Reasoning
Section-2: Science
Section-3: Achievers Section
For Class 11 and Class 12
Section-1: Physics/Chemistry
Section-2: Achievers Section
Section-3: Mathematics/Biology
(iii) There are separate question papers for each date of the Exam.
(iv) The medium of the test is English.
(v) CBSE, ICSE/ISC, and State Board syllabi are followed for setting the test papers.
(vi) The exam is conducted during school hours.
Level 2: Level 2 is conducted for students of class 3 to class 12. The qualifiers for the second round would include the following:
Top 5% of candidates, class-wise, who appear in the 1st level exam. In case of a tie of marks, due weightage to marks scored in different sections will be given. Each section is accorded separate weightage.
Top 25 rank holders class-wise & Zone wise.
Class topper is where at least 10 students from a class appear in the exam & score 50% qualifying marks. In case registration is received section-wise, top-rank holders, irrespective of the section will qualify for the 2nd level. For section-wise registrations, the winner(s) of the gold medal may not necessarily qualify for the second level.
Clarifications: Any clarification regarding rules, format/pattern of the paper, etc., may be sought from SOF by phone-call – at 0124-4951200 or email at info@sofworld.org.
Exam dates and important information for SOF National Science Olympiad (NSO)
Being aware of the exam dates and essential details is vital for successful participation in the SOF National Science Olympiad. Here's the information you need to know:
1. Exam dates
The NSO is conducted on specific dates, as mentioned on the official SOF website (https://sofworld.org/). The competition is usually held over multiple days, allowing participants to choose the most convenient date within the given range.
2. Exam format
The NSO follows a comprehensive exam format that includes multiple-choice questions and subjective questions. The exam assesses students' understanding of scientific concepts, their application, reasoning skills, and problem-solving abilities.
3. Exam language
The NSO is conducted in English. Students should have a good command of the English language to comprehend and respond to the exam questions effectively.
4. Exam centers
The NSO is conducted at designated exam centers across different cities and regions. The exact location of the exam center will be communicated to the registered participants closer to the exam date. Participants are advised to arrive at the exam center well in advance and follow the instructions provided.
5. First-come, first-served basis
Registrations for the NSO are typically accepted on a first-come, first-served basis due to limited availability. It's recommended to register early to secure your slot in the Olympiad and avoid disappointment.
How to Prepare for SOF National Science Olympiad (NSO)
To excel in the SOF National Science Olympiad, adequate preparation is essential. Here are some tips to help you prepare effectively:
1. Understand the syllabus
Thoroughly review the NSO syllabus to understand the topics and concepts that will be covered in the exam. Create a study plan to ensure comprehensive coverage of all the relevant subjects.
2. Study from reliable resources
Refer to quality study materials, textbooks, reference books, and online resources that align with the NSO syllabus. Choose resources that provide clear explanations, examples, and practice questions to reinforce your understanding of the concepts.
3. Solve previous years' question papers
Practice solving previous years' NSO question papers to familiarize yourself with the exam pattern, question types, and time constraints. This helps you gauge your preparation level, identify weak areas, and improve your speed and accuracy.
4. Practice regularly
Consistent practice is crucial for success in the NSO. Set aside dedicated study time and solve a variety of scientific problems regularly. Practice applying concepts to different scenarios, develop logical reasoning skills, and enhance your problem-solving abilities.
5. Seek guidance and mentorship
If possible, seek guidance from experienced science teachers, mentors, or subject matter experts who can provide valuable insights, clarify doubts, and guide you through challenging topics. Their expertise and guidance can help you gain a deeper understanding of scientific concepts.
6. Participate in mock tests and quizzes
Engage in mock tests and quizzes designed specifically for the NSO. These practice tests simulate the actual exam environment and help you assess your progress. Analyze your performance, identify areas that need improvement, and work on enhancing your skills accordingly.
7. Stay updated with current scientific developments
Keep yourself updated with the latest scientific advancements, discoveries, and developments in various fields. Read science journals, magazines, and online articles to expand your knowledge base and understand the relevance of science in today's world.
Conclusion
The SOF National Science Olympiad (NSO) is a remarkable platform that nurtures scientific curiosity, fosters critical thinking, and rewards academic excellence among students in India. Participating in the NSO offers numerous benefits, including the opportunity to enhance scientific knowledge, develop problem-solving skills, and gain recognition for scientific aptitude. If you have a passion for science and a desire to explore the fascinating world of scientific discovery, consider participating in the SOF National Science Olympiad and embark on a journey of intellectual growth and achievement.