Table of Contents
Introduction to SOF National Cyber Olympiad
SOF National Cyber Olympiad, commonly referred to as SOF NCO, is set to be a highly anticipated event for students across the nation. As part of the esteemed Science Olympiad Foundation (SOF), the National Cyber Olympiad holds a prominent position among the various SOF Olympiads. It serves as a captivating platform for young minds to explore the fascinating realms of cyber security, information technology, and computer science.
With an ever-increasing reliance on technology in our daily lives, the significance of understanding cybersecurity cannot be overstated. The SOF National Cyber Olympiad 2023 offers students an invaluable opportunity to delve into this critical field, gaining insights and knowledge that will shape their understanding of the digital landscape. Through this Olympiad, participants will be exposed to a comprehensive curriculum encompassing various aspects of cyber security, information technology, and computer science, nurturing their analytical thinking, problem-solving skills, and creativity.
Organized by the Science Olympiad Foundation (SOF), a renowned institution dedicated to promoting scientific and technological education, the SOF National Cyber Olympiad embodies excellence and integrity. The foundation's commitment to fostering future scientists, technologists, and IT talent is evident in the meticulous design of the Olympiad, which challenges students to showcase their aptitude and passion for cyber concepts. By participating in this prestigious event, students embark on a rewarding journey, honing their skills, expanding their knowledge, and paving the way for a successful future in the realms of cyber security, information technology, and computer science.
Sample papers for SOF National Cyber Olympiad exam preparation
MCQ.EPCLand.com offers a free platform for exam preparation with online sample multiple-choice questions.
Students can access a wide range of subjects and practice sample questions to enhance their knowledge and understanding.
The "My Results" section allows students to track their performance and progress, helping them identify strengths and areas for improvement.
Regular practice using the sample questions on MCQ.EPCLand.com can lead to higher scores and better exam outcomes.
The platform is completely free to use, requiring only a login if students choose to track their results.
MCQ.EPCLand.com provides a level playing field by offering its resources at no cost, ensuring that all students can benefit from exam preparation support.
Check the following online sample papers on the SOF National Cyber Olympiad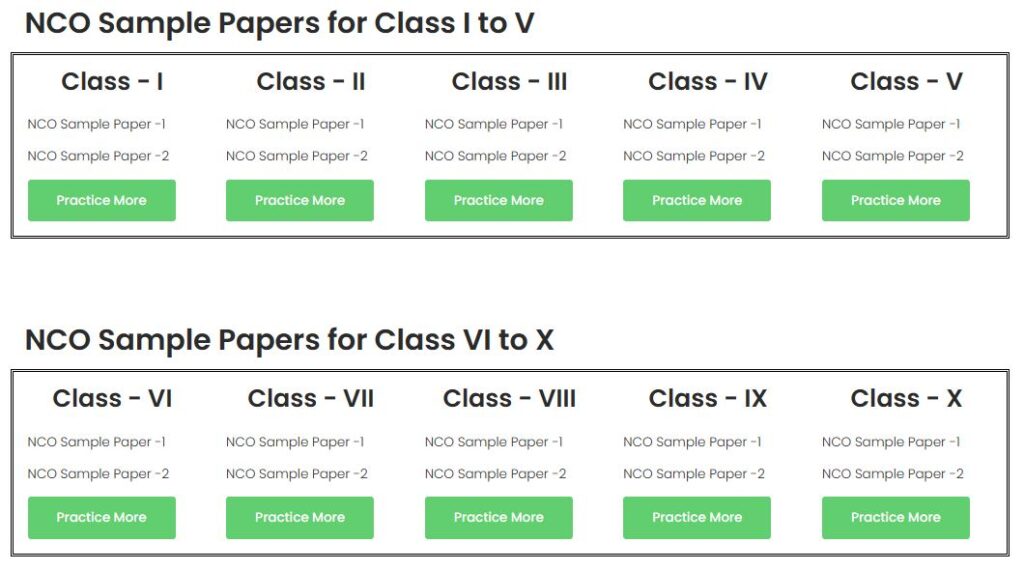 Download Sample Papers for SOF National Cyber Olympiad

Benefits of participating in the SOF National Cyber Olympiad
Participating in the SOF National Cyber Olympiad comes with a multitude of benefits. Let's explore some of the advantages that students can gain from this prestigious event:
1. Learning about cybersecurity
The NCO offers an excellent opportunity for students to delve into the world of cybersecurity. Through the competition, participants can enhance their understanding of various concepts, techniques, and best practices in the field. This knowledge is not only valuable for the competition but also has practical applications in today's digital world.
2. Gaining knowledge of information technology and computer science
The competition covers a broad range of topics related to information technology and computer science. By participating in the NCO, students can expand their knowledge and deepen their understanding of fundamental concepts, emerging trends, and technological advancements in these fields. This knowledge can be invaluable for their academic and professional pursuits.
3. Competing with other students from around the country
The NCO brings together talented students from different parts of India to compete at a national level. This healthy competition fosters a spirit of excellence, encourages students to push their boundaries, and enables them to benchmark their skills against their peers. It also provides a platform for students to network and interact with like-minded individuals who share a passion for technology.
4. Earning scholarships and other prizes
One of the most significant incentives for students to participate in the NCO is the opportunity to win scholarships and other prizes. The organizers recognize and reward the top performers, motivating students to strive for excellence. These scholarships and prizes not only serve as a recognition of their achievements but also provide financial support for their future educational endeavors.
5. Developing problem-solving skills
The NCO is designed to challenge students' problem-solving abilities in the realm of cybersecurity, information technology, and computer science. By engaging in the competition, students are exposed to complex problems that require analytical thinking, logical reasoning, and creative solutions. These problem-solving skills are transferrable and beneficial in various aspects of life.
6. Improving computer skills
The competition acts as a catalyst for improving students' computer skills. The hands-on nature of the NCO encourages participants to sharpen their technical abilities, including proficiency in operating systems, software applications, programming languages, and internet technologies. These enhanced computer skills are valuable in today's digital age, where technological literacy is increasingly essential.
7. Gaining confidence in your abilities
Participating in a prestigious competition like the NCO can boost students' self-confidence. It provides them with a platform to showcase their skills and knowledge, receive recognition for their accomplishments, and gain validation for their hard work. This increased confidence can positively impact their academic performance and overall personal growth.
Registration of Students for SOF National Cyber Olympiad:
The SOF NCO is open to students of classes one to ten. A prospectus containing the Registration forms is sent to all schools registered with SOF. Schools not registered may also request for prospectus by sending an e-mail to info@sofworld.org / Phone call. Schools must return the registration forms to SOF, duly filled in and complete in all respects by the due date.
Roll Numbers: The school's coordinating teacher should fill out the School Registration Form (SRF) and Students' Registration Sheet (SRS) as per the guidelines given & should send them to the SOF's office before the due date of submission of forms. SOF will register the applicant school and the students as per the Students' Registration Sheet (SRS) received from the School, SOF will generate roll numbers for all students.
The foundation will register the applicant's school and the students and dispatch question papers and guidelines for conducting the examination. Principals/teachers may please note that any school can be registered as a center for SOF NCO. No fee is required from the institution to become a registered examination center. A minimum of 5 students need to be registered for SOF NCO from each school for feasibility reasons.
The SOF NCO is conducted on two dates. Each school may select a date for conducting the SOF NCO as per its convenience. Each date of the exam has a separate question paper. Change of date for conducting SOF NCO is not permitted.
Students should register through their respective schools only. Individual registrations by students are not accepted.
Registration Fee: Schools in India, Bangladesh, Bhutan & Nepal pay SOF a registration fee of Rs 125* (including GST) per student / Olympiad towards the cost of the examination. Schools may charge an additional Rs 25** per student towards the honorarium of charge, remuneration to teachers to teach and guide, and other expenses. No fee is payable for students suffering from any major physical disability, or an Indian student whose parent was martyred during defense operations.
*US$9 for other countries.
**US$1 for other countries.
Syllabus for SOF National Cyber Olympiad paper :
The test is organized in the respective schools of the participants during school hours.
(i) The paper is an objective-type test of 60 minutes duration comprising 35 objective-type (Multiple Choice) questions for classes 1 to 4 and 50 objective-type (Multiple Choice) questions for classes 5 to class 10.
(ii) The question paper consists of three sections:
Section-1: Logical Reasoning
Section-2: Computers and Information Technology
Section-3: Achievers Section
(iii) There are separate question papers for each date of the exam.
(iv) The medium of the test is English.
(v) CBSE, ICSE/ISC, and State Board syllabi are followed for setting the test papers.
(vi) The exam is conducted during school hours.
Clarifications: Any clarification regarding rules, format/pattern of the paper, etc., may be sought from SOF by phone-call – at 0124-4951200 or email at info@sofworld.org & latest details can be checked at https://sofworld.org/
Exam dates and important information for SOF National Cyber Olympiad (NCO)
Being aware of the exam dates and important details is essential for successful participation in the SOF National Cyber Olympiad. Here's the information you need to know:
1. Exam dates
The NCO is conducted on different dates, depending on the class of the participating students. The exam dates for each class are as follows:
Class 1: 25th June 2023
Class 2: 26th June 2023
Class 3: 27th June 2023
Class 4: 28th June 2023
Class 5: 29th June 2023
Class 6: 30th June 2023
Make sure to mark these dates on your calendar and prepare accordingly.
2. Exam format
The NCO is a computer-based test, meaning that students will take the exam on a computer or similar digital device. It is essential to have basic computer skills and familiarity with operating systems and software applications.
3. Multiple-choice questions
The NCO exam consists of multiple-choice questions (MCQs). Students are presented with a question and must select the correct answer from the provided options. MCQs are designed to test students' knowledge and understanding of the subject matter.
4. Exam language
The NCO is conducted in English. Students should have a good grasp of the English language to effectively comprehend and respond to the exam questions.
5. Exam centers
The NCO is conducted at various centers across India. These centers are established to ensure convenient access for participants from different regions. The exact location of the exam center will be communicated to the registered students closer to the exam date.
6. First-come, first-served basis
It's important to note that registrations for the NCO are accepted on a first-come, first-served basis. As there are limited seats available, it is advisable to complete the registration process early to secure your spot.
How to Prepare for SOF National Cyber Olympiad (NCO)
To maximize your chances of success in the SOF National Cyber Olympiad, adequate preparation is essential. Here are some tips to help you prepare effectively:
1. Study the syllabus
Thoroughly review the NCO syllabus and ensure that you have a good understanding of all the topics covered. Allocate sufficient time to each subject area based on its weightage and complexity.
2. Practice with sample questions
Practice is crucial for enhancing your knowledge and test-taking skills. Solve sample questions and previous years' papers to familiarize yourself with the exam format, identify areas of improvement, and gauge your performance.
3. Seek additional study resources
Apart from the prescribed syllabus, consider referring to additional study resources such as textbooks, online tutorials, and educational websites. These resources can provide deeper insights into the topics and offer alternative explanations or examples.
4. Review important concepts
Focus on understanding and revising the key concepts within each topic. Pay attention to fundamental principles, definitions, formulas, and algorithms that form the basis of the subject matter.
5. Develop time management skills
The NCO exam has a specific time duration, so it's crucial to develop effective time management skills. Practice solving questions within the given time frame to improve your speed and accuracy.
6. Get a good night's sleep
Ensure that you get adequate sleep the night before the exam. A well-rested mind performs better, retains information more effectively, and improves concentration during the exam.
7. Arrive early at the exam center
On the day of the exam, plan to arrive at the exam center well in advance. This allows you to settle in, familiarize yourself with the surroundings, and reduces the chances of unnecessary stress or delays.
Conclusion
The SOF National Cyber Olympiad presents a remarkable opportunity for students in India to explore the realms of cybersecurity, information technology, and computer science. By participating in this prestigious competition, students not only enhance their knowledge and skills but also have the chance to win scholarships and valuable prizes. If you're a student in India, consider taking part in the SOF National Cyber Olympiad and embrace the exciting challenges and rewards it offers.